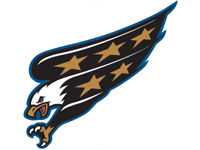 Washington Capitals
Franchise Date: June 11, 1974
Address: 601 F Street N.W., Washington, D.C. 20001
Website: http://www.washingtoncaps.com
Arena: MCI Center
Capacity: 19,740
Actions: Email Trade Offer - Propose a Trade - Sign an ECHL player
Actions: Waive/Send-Down - Claim Waived Player - Bring Up Player - Make player a Holdout
Actions: Edit Trade Block - Place player on IR - Take player off IR - Release Player
Actions: Position change request - Request Player Re-Rate
Actions: Change Password - Change Personal Info - Bickering/Suggestions? - Notes
View: Past Trades - Trade Block - AHL Team - ECHL Team
View: Standings - IR list - Team Draft Picks - All Draft Picks - Terms - UFAs - RFAs
View: Past Results - Lines - Ratings - Team Scoring - GMs Personal Info


General Manager - BagoPucks (BagoPucks) - Waterloo, Ontario
Avg. CPHL Salary: $3.12 mill
Avg. AHL Salary: $0.13 mill
Avg. CPHL Age: 30.12 yrs
Avg. AHL Age: 22.96 yrs
# of CPHLers: 24 players
# of AHLers: 23 players
# of ECHLers: 15 players
Terms

Team Sending
Team Receiving
Amount ($) (in millions)
Other
Washington Capitals
League
$ 0.00
Releasing Soto, Matthew (RW) ECHL (0.01 for 3 yrs)
Washington Capitals
League
$ 0.00
Releasing Klimovich, Yegor (C) ECHL (0.01 for 3 yrs)
Washington Capitals
League
$ 0.60
Releasing Fasching, Hudson (RW) NHL (0.50 for 3 yrs)
Washington Capitals
League
$ 0.04
Releasing Carlsson, Gabriel (D) AHL (1.25 for 1 yr)
Ottawa Senators
Washington Capitals
$ 0.20
2023-24
Washington Capitals
Anaheim Mighty Ducks
$ 0.30
2023-24
New York Islanders
Washington Capitals
$ 0.10
2023-24
Washington Capitals
Minnesota Wild
$ 4.25
2023-24
Columbus Blue Jackets
Washington Capitals
$ 0.20
2024-25
Washington Capitals
Boston Bruins
$ 6.50
2023-24
Washington Capitals
Colorado Avalanche
$ 0.10
2023-24
Washington Capitals
New Jersey Devils
$ 2.00
2023-24
Washington Capitals
Dallas Stars
$ 0.20
2023-24
Colorado Avalanche
Washington Capitals
$ 2.00
2023-24
Toronto Maple Leafs
Washington Capitals
$ 6.00
2023-24
Toronto Maple Leafs
Washington Capitals
$ 9.99
2023-24
Washington Capitals
Toronto Maple Leafs
$ 3.00
2023-24
League
Washington Capitals
$ 0.90
2023-24
League
Washington Capitals
$ 5.00
2023-24
Washington Capitals
New York Rangers
$ 0.10
2024-25
Washington Capitals
Colorado Avalanche
$ 1.40
2024-25
Colorado Avalanche
Washington Capitals
$ 2.00
2023-24
League
Washington Capitals
$ 0.15
2023-24

Special: BOS owes WSH 2 2024 3rds prior to the draft
Special: NYI sends WSh a 2024 4th by the draft (4th to be in the top half of the round)
Special: 2023 picks 67 and 68 to WSH. WSH to send COL 2 2024 2nds by the 2024 draft
Special: TOR Sends WSH 500K for 24-25 Season. TOR also sends WSH Pick 123 in the 2023 Draft
Special: TOR sends WSH 100K in 24-25 in lieu of the 2024 5th Round Pick ( as the league has deleted the 2024 5th Round)
Special: NJD Sends 3.2M to WSH for 2024-2025
Special: COL sends WSH 2M in 2023-2024.
| | |
| --- | --- |
| 2023-24 | Net |
| Net Money transfered to & from other teams (Max: $18.00 mill) | 3.94 mill |
| | | | |
| --- | --- | --- | --- |
| Player Name | Pos. | Age | CPHL Salary |
| | | | |
| --- | --- | --- | --- |
| Player Name | Pos. | Age | Date of Holdout |
Entry Draft Selections

Year

Picks (Original Team in Brackets)

2024

2nd(fla), 2nd(min), 2nd(nyi), 2nd(phi), 2nd(pit), 2nd(tor), 2nd, 3rd(buf), 4th, 5th(nas), 5th(tor), 5th

2025

1st, 2nd(min), 2nd, 3rd(tor), 4th, 5th

2026

1st, 2nd, 3rd, 4th, 5th

2027

1st, 2nd, 3rd, 4th, 5th
Awards/Accomplishments
2004 Shore Division Champions
2004 Cliff Fletcher Award - John Ralph - Best CPHL GM Award voted on by all GMs
2004 Darryl Sutter Award - John Ralph - Best 1st Year CPHL GM Award voted on by all GMs
2007-2008 Tim Hunter Award - Best Goon - Todd Bertuzzi
2011/2012 Southeast Division Winners
2014 Darryl Sutter Award (top 1st year GM): The Swedish Flame
2022 Eastern Conference Champions: BagoPucks

Hershey Bears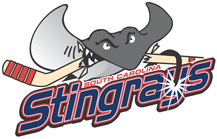 South Carolina Stingrays