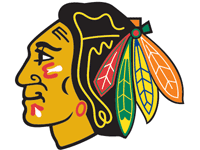 Chicago Blackhawks
2003/04 CPHL Stanley Cup Champions
Franchise Date: September 25, 1926
Address: 1901 W. Madison Street, Chicago, IL. 60612
Website: http://www.chicagoblackhawks.com
Arena: United Center
Capacity: 20,500
Stanley Cups: 1933-34, 1937-38, 1960-61
Actions: Email Trade Offer - Propose a Trade - Sign an ECHL player
Actions: Waive/Send-Down - Claim Waived Player - Bring Up Player - Make player a Holdout
Actions: Edit Trade Block - Place player on IR - Take player off IR - Release Player
Actions: Position change request - Request Player Re-Rate - Hire Coach - Fire Coach
Actions: Change Password - Change Personal Info - Bickering/Suggestions? - Notes
View: Past Trades - Trade Block - AHL Team - ECHL Team
View: Standings - IR list - Draft Picks - Terms - UFAs - RFAs - GMs Personal Info
View: Past Results - Lines - Ratings - Team Scoring


General Manager - Clint Wutzke (Tilley) - dunno
Avg. CPHL Salary: $3.34 mill
Avg. AHL Salary: $0.07 mill
Avg. CPHL Age: 28.30 yrs
Avg. AHL Age: 21.83 yrs
# of CPHLers: 22 players
# of AHLers: 24 players
# of ECHLers: 11 players
No Pic

Head Coach

Name:
Salary: mill
Length: yrs
Terms

Team Sending
Team Receiving
Amount ($) (in millions)
Other
Chicago Blackhawks
League
$ 0.02
Releasing Flynn, Brian (RW) AHL (0.55 for 1 yr)
Chicago Blackhawks
League
$ 0.02
Releasing Lorito, Matt (LW) AHL (0.51 for 1 yr)
Chicago Blackhawks
League
$ 0.05
Releasing Cracknell, Adam (RW) AHL (0.81 for 2 yrs)
New York Rangers
Chicago Blackhawks
$ 1.00
2018-19
League
Chicago Blackhawks
$ 0.01
2018-19
Chicago Blackhawks
New York Islanders
$ 0.30
2018-19
League
Chicago Blackhawks
$ 5.00
2018-19

Special: JonDuke must grow a mullet or Tilley receives a bottle of Jagermeister.
Special: Chicago will send NYI 0.3mil in cap for the 2018-19 season
Special: Fulfills condition of 0.3mil in cheese to NYI from Chi
Special: If Chicago does not qualify for 2018-19 CPHL playoffs, LA will send Hawks a 2nd round pick prior to draft. If Hawks make 2018-19 playoffs, LA send Hawks a top 70 pick for 2019 draft.
| | |
| --- | --- |
| 2018-19 | Net |
| Net Money transfered to & from other teams (Max: $18.00 mill) | 0.7 mill |
| | | | |
| --- | --- | --- | --- |
| Player Name | Pos. | Age | CPHL Salary |
| Marc Methot (2 year contract) | D | 33 | 1.85 |
| | | | |
| --- | --- | --- | --- |
| Player Name | Pos. | Age | Date of Holdout |
Entry Draft Selections

Year

Picks (Original Team in Brackets)

2019

4th, 5th

2020

1st, 2nd, 4th, 5th

2021

1st, 2nd, 3rd, 4th, 5th

2022

1st, 2nd, 3rd, 4th, 5th

2023

1st, 2nd, 3rd, 4th, 5th
Awards/Accomplishments
2004 D arcy McGrath Award - Dayel Peterson - Best Message Board poster award
2004 Mikita Division Champions
Andrew Cassels wins MVP - All-Star Skill Competition 2004
2003/2004 CPHL Howe Conference Champion
2003/2004 CPHL Stanley Cup Champions
2006-2007 Lanny McDonald Award (Brad Richards)
2007-2008 Howe Conference Winners
2007-2008 Mikita Division Winners

Rockford IceHogs

Pee Dee Pride